We Manage Microsoft Azure For You
Companies look to Microsoft Azure to save time, and money; but implementing Azure is tricky, and not every organization is equipped with the right IT staff or skill-sets to be successful. The migration to the cloud is often far more complex than many organizations expect, and so many are seeking certified experts to assist them with the complexity of Microsoft Azure.
Having to deal with architecture, security, Governance and Regulatory Compliance (GRC), and operations is a daunting task and takes focus away from your core business.
Managed Solutions for Microsoft Azure is the answer for businesses facing these challenges. Let our Microsoft certified engineers, architects, and leadership team manage your cloud while you manage your business. Blending technology, automation, and human expertise, UnifyCloud is your trusted guide for navigating the cloud.
Get ahead of the curve by implementing the right cloud solutions. We can help your business become more agile, secure, compliant, and operationally efficient.
Your partner for Microsoft Azure management
A leading MSP offering managed services for Microsoft Azure environments, our expertise ensures a long-term strategy that drastically reduces risk and increases ROI.
We allow you to focus on your business and realize the full benefits of the cloud without sacrificing security or interrupting operations. We monitor performance, offer you expert advice and support, and are always optimizing for cost.
Azure expertise from Building
to Optimizing
Our experienced Azure engineers customize and develop a road-map for your specific environment needs. Our dedicated cloud enablement team works with you in all stages of your cloud journey, from an initial cloud readiness assessment, to migration and monitoring.
Our fully-managed options simplify the cloud and save you money and time.

Plan
After conducting a full analysis on your environment and applications, we determine a comprehensive and actionable migration strategy and execution plan.

Build
We build and tailor your new environment to your needs. Our assessments are extremely detailed technical reports which allow us to create an environment that is right-sized, agile, and cost optimized.

Monitor and Report
With ongoing monitoring and optimization, we ensure your applications remain efficient, secure, and compliant.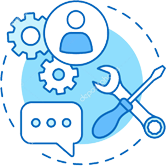 Not sure where to start?
We can help.
UnifyCloud provides clarity and direction for your organization with a Cloud Readiness Assessment. Taking a comprehensive view of your entire on-premises infrastructure, using CloudAtlas , we are able to accurately identify your key assets, applications, and most importantly, help you develop a cloud migration strategy.
Cloud transformation is not easy, but thankfully you have the ability to gain our expertise—and experience—to design and implement a strategy specifically for your business goals. With scalability in mind, we design and build a cloud that works for you.