UnifyCloud offers a range of web application modernization services incorporating best practices which helps companies to extract maximum value from their existing applications.
Web Application and Data modernization
Rebuild, Replatform and Reimagine your applications to take advantage of the modern web application, data and cloud platforms along with transforming technologies.
Discovery and Assessment
UnifyCloud assesses your current legacy applications and provides you a complete solutions for modernization going forward.
Migrate to the Cloud
Efficiently move your applications and data to the cloud with application based solutions.
Remediation Services
UnifyCloud enhances your current applications for easy maintenance, scalability and deployments effectively.
The application journey to the Cloud
Pre Modernization Analysis
>>

App Modernization

>>
Minimally after to take
better advantage
to cloud
Materially alter/decompose
application to server
New code written with
Cloud-Native
approch
Application Modernization Solution Assessment
Data-driven analysis and recommendations in phases:
Planning
Gather information on your infrastructure background Identify engagement plans and goals

Data collection
Inventory software and hardware assets Inventory, usage, and interdependencies

Data analysis
Review and validate all collected data. Review your current environment and map it to an optimized environment based on your goals

Final recommendations
Present our results, recommendations, and next steps through an overview presentation and detailed set of reports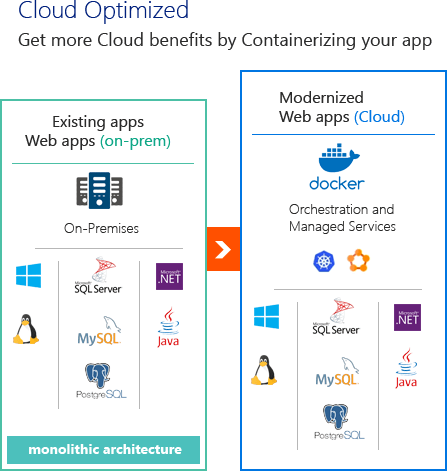 Pros
No re-architect or new code
Increased density & lower deployment cost
Improved productivity and DevOps agility
Portable of apps and dependencies
High availability with Orchestrators
Cons
Containerization is and additional step
Are you looking to modernize your web application to the cloud? UnifyCloud can help you to transform your applications and databases to become more efficient and effective using cloud best practices. Contact us here. Schedule A Meeting