UnifyCloud follows the Microsoft Cloud Adoption Framework (CAF) for Azure
This framework is proven guidance that brings together cloud adoption best practices from experts, partners, and customers. It provides the tools, guidance and narratives that cloud architects, IT professionals and business decision makers need for their cloud migration to achieve desired business outcomes. This guidance aligns to the following phases of the cloud adoption lifecycle.
These phases are part of a full lifecycle framework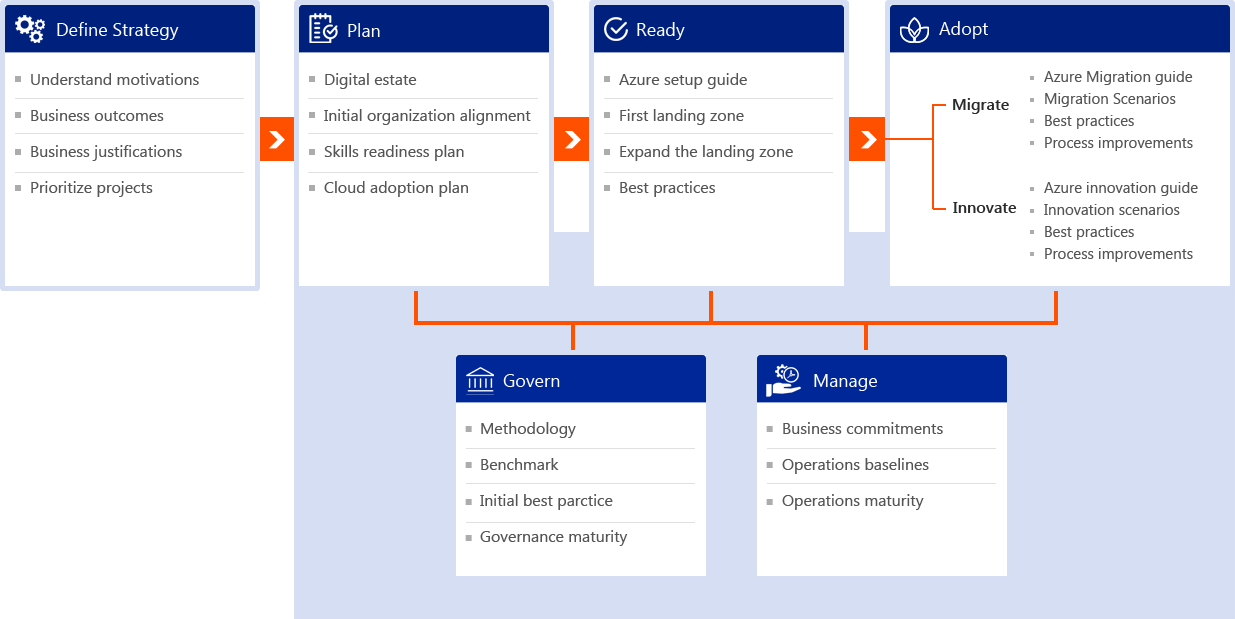 Learn about CAF with CTO Vivek Bhatnagar
during this On-Demand Video Series
Join UnifyCloud Co-founder and CTO, Vivek Bhatnagar, as he dives deep into the Microsoft Cloud Adoption Framework which is designed to help you successfully plan and execute your cloud migration, providing best practices, documentation and tools that cloud architects, IT professionals, and business decision makers can utilize to increase cloud readiness, unblock adoption and create cloud-ready environments.

Discovery And
Analysis
Using proprietary tools, we scan and assess your infrastructure, application & data to determine best fit services based on strategic business needs.

Strategy
Leveraging data from discovery and analysis, we assess your business needs, identify opportunities and recommend the optimal migration strategy.

Planning
Our analysis tools help discover dependencies to prioritize applications and identify required remediations helping you reduce risk, time and cost.
Execution
We use automated cloud management and migration tools to support a smooth transition, along with a transformation management plan to stay on track.