UnifyCloud follows the
Microsoft Cloud Adoption Framework for Azure
This framework is proven guidance that brings together cloud adoption best practices from experts, partners, and customers. It provides the tools, guidance and narratives that cloud architects, IT professionals and business decision makers need for their cloud migration to achieve desired business outcomes. This guidance aligns to the following phases of the cloud adoption lifecycle.
Define business justification and expected outcomes of adoption
Align actionable adoption plans to business outcomes
Prepare the cloud environment for the planned changes
Migrate and modernize existing workloads
Develop new cloud-native or hybrid solutions
Govern the environment and workloads
Operations management for cloud and hybrid solutions
Manage organizational alignment
These phases are part of a full lifecycle framework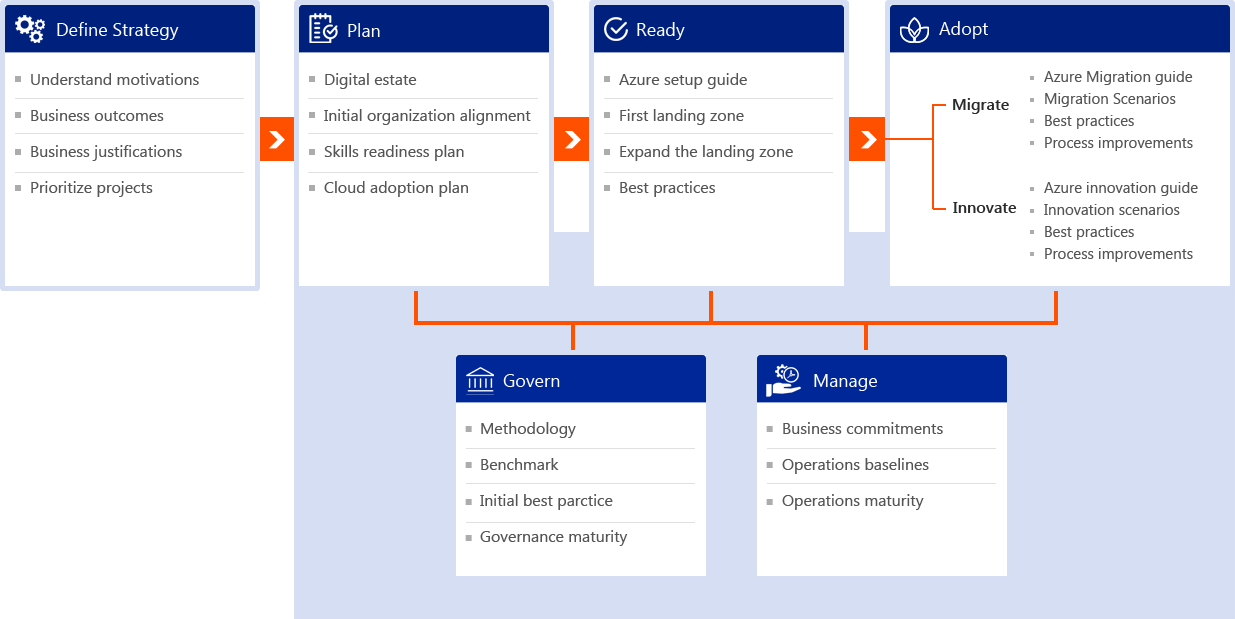 The Cloud fundamentally changes how enterprises secure and use technology resources. UnifyCloud shows you how.
UnifyCloud services and solutions are built to accelerate your cloud migration journey, quickly showing you what is possible and keeping your journey on track using the Microsoft Cloud Adoption Framework. Key areas where you can realize the benefits of UnifyCloud's advanced development and automation include:

Discovery & Analysis
Using proprietary tools, we scan and assess your infrastructure, application & data to determine best fit services based on strategic business needs.

Strategy
Leveraging data from discovery and analysis, we assess your business needs, identify opportunities and recommend the optimal migration strategy.

Planning
Our analysis tools help discover dependencies to prioritize applications and identify required remediations helping you reduce risk, time and cost.

Execution
We use automated cloud management and migration tools to support a smooth transition, along with a transformation management plan to stay on track.