Transforming the Cloud Migration Journey is what we do​
Founded by former Microsoft employees, UnifyCloud has developed a suite of tools that automate some of the most difficult, arduous and time-consuming cloud migration tasks – we call this CloudAtlas. We utilize these tools to serve clients and partners to allow organizations to accelerate and simplify the cloud migration journey.
Our cloud solutions help clients and partners accelerate cloud migration
An
organization
looking for answers to your cloud migration questions?
We can help by demystifying cloud migration and help you understand your options, develop a cloud migration strategy, and help you execute that plan.
Learn More about our Services
See how our tools can take your business to the next level by automating manual, time-consuming and expensive processes and unleash your resources to grow your business.
Learn More about CloudAtlas
Cloud Services
Reducing the complexity and risk associated with self-service technology, UnifyCloud's Cloud Services guide you through the entire cloud migration journey, using our proprietary tools to accelerate that journey.
Introducing The CloudAtlas Cloud Migration Suite of Tools

CloudAtlas is the first and most complete suite of tools designed to make your journey from on-premise to the cloud fast, easy and efficient.
The CloudAtlas integrated tool set spans the entire cloud migration lifecycle, provides insight into legacy systems and automates and facilitates migration at cloud scale that manual processes and on-premise tools just can't support. CloudAtlas has been tested and proven to accelerate even the largest and most complex migration scenarios helping you get to the cloud quickly, securely and in compliance. The CloudAtlas suite of tools follows the Microsoft cloud migration framework and has a solution to expedite every step of the cloud migration journey.

Assess
Identify and inventory on-premise resources to plan where cloud migration should start.

Migrate
Migrate quickly and efficiently with flexible, powerful tools ensuring minimal business disruption.

Optimize
Streamline resources to improve performance, maximize ROI, and maintain compliance.

Secure/Manage
Fine tune resources to strengthen security and gain oversight of analytics and cloud usage.
[+] Explore All Products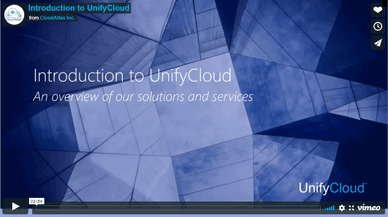 Learn how UnifyCloud helps you develop a great cloud migration business case and implements that business case to operate in a secure, optimized and well-managed cloud environment.
Watch Video
UnifyCloud was born in the cloud with the development of the CloudAtlas® platform to facilitate rapid adoption, secure deployment and effective management of workloads and custom applications to Microsoft Cloud solutions.
UnifyCloud services and the CloudAtlas platform span the entire cloud migration journey – infrastructure assessment, app and data modernization, dependency analysis, migration planning, landing zone creation, workplace modernization, and management of cost, security, governance, risk management and compliance.